Shrine of Our Lady of Siluva
Our Lady of Siluva receives several hundred thousand pilgrims each year. In 1993, Pope John Paul II prayed at the shrine on his historic trip to Lithuania.
The chapel containing the image of Our Lady of Siluva is decorated with beautiful frescoes and paintings. The miraculous image is concealed behind a painting depicting the apparition of the Blessed Mother and is exposed only during public ceremonies. Visiting pilgrims can often see the painting by asking chapel custodians to unveil it for them.
The shrine is open throughout the year.
The greatest feast day at the shrine is the Nativity of the Blessed Virgin Mary, September 8. A week of celebrations and festivities follows and continues through September 15. This celebration is known as "silines."
About Our Lady of Siluva
Please click Our Lady of Siluva for more information.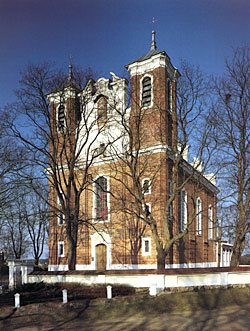 One of the most famous places of worship of the Blessed Virgin Mary. The brick church, in late Baroque style, was built in 1760-1786.
Shrine of Our Lady of Siluva
Hill of Crosses Shrine
Gate of Dawn Shrine
Church of the Holy Spirit
Cathedral of Vilnius