Hill of Crosses Shrine
The Hill of Crosses, near Siauliai, is an unforgettable, emotional site.
It is located six miles north of Siauliai on the road to Meskuciai.
Despite the Soviets attempt to destroy the site, thousands of crosses stand on this sacred spot. The crosses, with their handwritten messages, reveal much about the history of the Lithuania people.
Pope John Paul II celebrated Mass at the site in 1993.
It is a common tradition for visitors to leave behind a cross and a prayer. Sacred objects such as crucifixes or rosaries can be purchased at various souvenir stands.
Easter week is one of the busiest weeks at the shrine.
About The Hill Of Crosses
The first crosses were placed on the Hill by relatives of the victims of an anti-Russian uprising in 1831. More crosses were put up in memory of those tragically killed in the peasant rebellion in 1863.
It soon became a custom to place crosses on the hill and by the end of the nineteenth
Century, it became a place for Masses and devotion.
After WW II, the Soviet government forbid the people from visiting the hill punishing those who defied them. Some were imprisoned, others killed or sent to Siberia.
For almost two decades, the Communists struggled with Lithuania over the erection of the crosses and even bulldozed the area three times. But the Christians planted new crosses over and over again. The Communists leveled the hill for the last time in 1975.
Since then, more than fifty thousand crosses have been planted on the hill – a testament to the spirit of the people.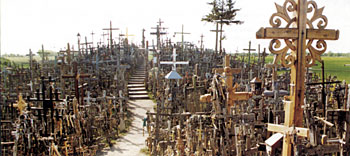 The crosses placed here tell us about personal and public misfortunes and catastrophes. Every year thousands of people visit the Hill.
Shrine of Our Lady of Siluva
Hill of Crosses Shrine
Gate of Dawn Shrine
Church of the Holy Spirit
Cathedral of Vilnius