Gate of Dawn Shrine
Our Lady Gate of Dawn sanctuary, in Vilnius, is one of Lithuania's most celebrated pilgrimage sites. More than half a million people visit the shrine each year to see the portrait of the Blessed Virgin Mary that lies within its walls.
The Blessed Virgin Mary of Ausros Vartai (Lithuanian for Gate of Dawn) is considered the guardian of Lithuania.
In 1993, Pope John Paul II prayed before the miraculous image.
The shrine is located at Ausros Vartu 12 in Lithuania. Enter the sanctuary through the door on the east side of the street. Stairs, inside, lead to a small chapel where the icon is located. Visitors. come and go as they please.
Religious celebrations take place between November 10 and November 16. The Feast of Our Lady of Mercy is on the 16th.
About Our Lady Gate of Dawn
In the sixteenth century, city officials built a stone wall around the city for protection. Two religious paintings were placed in its walls at one of the gates. Facing outward was the picture of the Savior, facing in toward the city, a picture of the Blessed Virgin.
The local monks who built a monastery near the gate began to take care of the painting in 1626. They built a wooden chapel over the gate in 1671.
The wall was destroyed, in 1795, during the years Russia occupied Lithuania. The only thing that remained standing was the Gate of Dawn shrine.
In 1715 when a fire destroyed the wooden chapel, the image was rescued and placed in the church at the monastery until a new chapel was built on the original site in 1726.
The shrine grew in popularity over the years, but in 1944, the Soviets put an end to religious services at the shrine.
When Lithuania declared its independence, forty-five years later, services were resumed.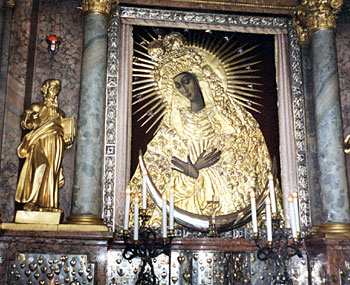 The picture is one of the five crowned pictures of the Blessed Virgin in Lithuania. But it is the only one where Mary is depicted without a Baby Jesus.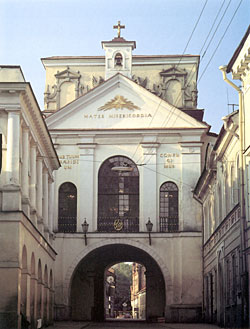 The miraculous painting of "The Blessed Virgin Mary Mother of Mercy" is above the altar in the chapel built over the gate.
Shrine of Our Lady of Siluva
Hill of Crosses Shrine
Gate of Dawn Shrine
Church of the Holy Spirit
Cathedral of Vilnius