It is easy to get around in Lithuania.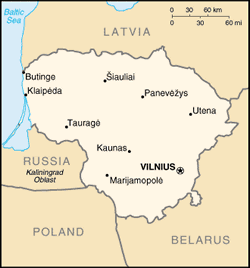 Traveling by bus is quite popular in Lithuania, since trains do not serve every town and village. The country has an excellent bus network.
Taxis are another convenient way to visit shrines and other places of interest.
However, if you are traveling independently in Lithuania and do not speak the Lithuanian language, you may want to hire a guide or translator, especially for your trip to Siluva.
For more information on major cities in Lithuania, shrines and other places of interest, go to:
Tour Guides
Vytis Tours
Rita M. Pencyla
tel/fax 708-923-0280
pencylar@comcast.net
Main Office
40-24 235th Street
Douglaston, NY 11363
PH: 800-778-9847 - 718-423-6161

G T International
9525 South 79th Avenue
Hickory Hills, IL 60457
PH: (708) 430-7272 (800) 462-2584
FAX: (708) 430-5783
gtinternational@compuserve.com

Lithuanian Guide Guild
Grazvyda Mickeviciene
English guide - interpreter
Juodsiliu 41
LT - 2028 Vilnius
Lithuania
Tel./Fax: +370 2 640777
Mobile: 8 287 28933
mickevia@takas.lt

Visit Lithuania
Rimas A Chesonis
140 Regatta Drive
Webster, NY 14580
(585) 216-9714
www.visitlithuania.net
Guidebooks
In Your Pocket guidebooks are available for major cities in Lithuania. These books provide up-to-date information on tourist agencies, local travel, places to stay, restaurants, points of interest, and other essential information to make your trip more convenient.
Visit www.inyourpocket.com for free online city guides.
Lithuanian tour information is available at www.tourism.lt
Helpful Site
Catholic Church in Lithuania at www.lcn.lt