The Churches of Siluva
Siluva – Lourdes of Lithuania – is one of the most famous places of worship of the Blessed Virgin Mary. The first church was built in 1457 by P. Gedgaudas. He is believed to have brought the painting of Our Lady from Rome.
After the apparitions, Father Kazakevicius was appointed pastor of the Catholic people in Siluva. In 1624, he built a small wooden church on the site of the original church. It soon proved much too small for the many pilgrims who visited the place.
The pilgrims had heard of the apparitions and of the finding of the cherished image, which was placed above the main altar of the church. People from all over Lithuania flocked to Siluva to visit the little church and to pay homage to the Mother of God.
According to Bishop Valancius, who made a study of the history of Siluva, the place was so popular that in 1629, during the annual ceremonies held on the Feast of the Nativity of the Blessed Virgin, more than 11,000 received Holy Communion.
A much larger church was built in 1641. Consecrated ten years later in 1651, it served many pilgrims for almost 140 years. During this time, offerings continued to come in.
The church of Siluva today – Basilica of the Birth of the Blessed Virgin Mary – is the fourth church to have been built on that spot. The new church of renaissance style was built from 1760 to 1775 and solemnly consecrated on September 7, 1786.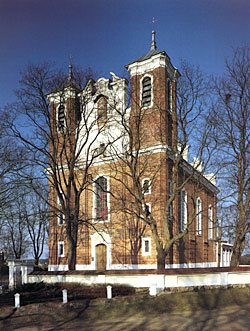 Basilica of the Birth of the Virgin Mary, built 1760 – 1786 in late Baroque style. Damaged by fire, the church was reconstructed in 1925.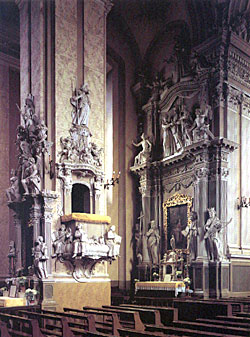 Side altar inside the church.